8 of The Best Christmas Events in East Scotland
8 of The Best Christmas Events in East Scotland
Ho ho ho! Christmas is nearly upon us! And since we provide the best new build homes in East and Central Scotland, we thought we'd introduce the best Christmas events East Scotland has to offer in 2022.

We'll explore everywhere from Edinburgh to Dundee, Dalkeith and more, giving you a full guide of the best things to do in East Scotland for Christmas 2022.

Let's kick things off with one of the biggest Christmas events in Scotland - Edinburgh Christmas Markets.
1. Edinburgh Christmas Markets.
One of the most popular Christmas markets in all of the UK and in fact, all of Europe, comes in the form of the Edinburgh Christmas Market.

Running through December until January 3rd, the 2022 Edinburgh Christmas Markets will include everything from mulled wine (and mulled Irn Bru) to pigs in blankets for meat-eaters and vegans alike, as well as a range of brilliant gifts to buy from local and national businesses.

With events located from Princes Street Gardens up to George Street, there's something for everyone including a 65 metre long ice rink with a clear roof allowing you to watch amazing skating in all weathers. And for the undaunted, a trip on the Forth 1 Big Wheel brings breath-taking views of Edinburgh's winter skyline and the markets below.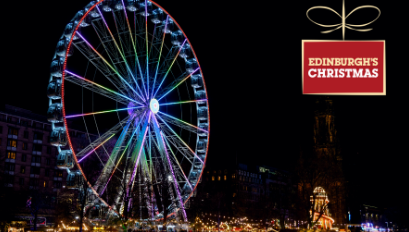 That's without mentioning the incredible Light Night spectacular taking place on The Royal Mile, with 12 locations boasting fantastic light-themed installations for the festive period.

No tickets are required for the market, so get yourself down and enjoy the best of Christmas from Edinburgh!
2. Christmas at The Botanics - Edinburgh.
Edinburgh does Christmas like no other city, and Christmas at The Botanics is famous across Scotland for being one of the most exciting festive events around.

With larger than life illuminations and immersive light installations in the form of giant baubles, glistening trees, as well as The Flame Garden, The Botanic Gardens in Edinburgh is a must-visit this Christmas.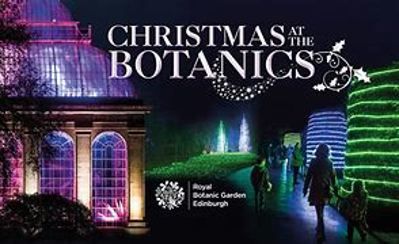 The Botanics can only be purchased online, with prices starting at £15 per child and £21.50 for adults.

Buy tickets for Christmas at The Botanics here.
3. Dalkeith Country Park Spectacle of Light.
Off to Dalkeith next, specifically the Dalkeith Spectacle of Light within the Country Park.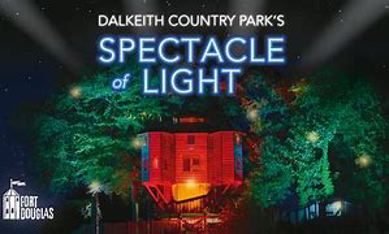 This year's theme is pirates, with an after-dark experience full of piratey fun with everything based on Treasure Island. This means treasure hunts, real-life pirates, and incredible illuminations throughout the park, and children and adults can hunt for gold in complex tunnels, on slides, rope bridges, and even zip lines during this fantastic family event.

Book tickets for Dalkeith Country Park Spectacle of Light at this link and save 10%.
4. Dundee Winterfest 2022.
Dundee is a fantastic place to visit all year round, but even more so during Christmas. This is especially the case in 2022, when the city sees the re-introduction of Dundee Winterfest, a truly special festive experience for the family to enjoy in the heart of East Scotland.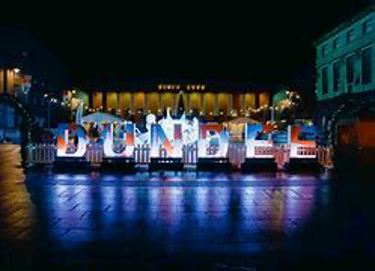 Taking place in Slessor Gardens, the Christmas event will include a big wheel, vintage funfair, traditional Bavarian bar, as well as a full-scale ice rink and much, much more.

This looks set to be one of the most exciting Christmas events in East Scotland, and while they will be accepting payments on the day, it's advised to book in advance for the Dundee Winterfest ice rink, as it promises to be incredibly popular.
5. Perth Wildlife Light Trail.
Something a little different next with the Perth Wildlife Light Trail, created by Perth and Kinross Council for 2022.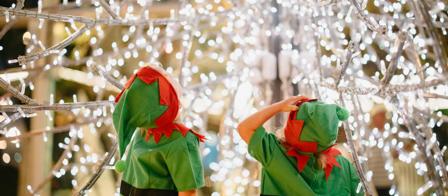 Lighting up key areas in Perth, from Perth Theatre to Perth Concert Hall, as well as council buildings on the high street, larger than life illuminated animals will be on display for the duration of December. Take pictures and enjoy the brilliance of animals such as a stag, unicorn, salmon, and otter while you take in the Christmas atmosphere Perth promises for 2022.

This event is free and the illuminated wildlife animals will be on display for the public to enjoy.
6. Dunfermline Christmas Cabaret & Winter Festival.
Not shy of getting involved in the Christmas fun, Dunfermline will have numerous festive events taking place this December.
The first of which is "A Secret (Naughty But Nice) Christmas Cabaret, which will feature Scottish Drag, burlesque, twisted circus, magic and mystery, and of course, a big dose of laughter. You can find out more and buy tickets for A Secret (Naughty But Nice) Christmas Cabaret in Dunfermline here.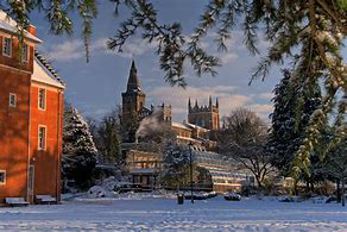 As well as the Christmas Cabaret, Dunfermline will also host a Winter Festival called "It's The Most Wonderful Time of Year" on December 17th. Full of song, dance, and Christmas spirit courtesy of the Razz Big Band and guests, this looks set to be a popular event so get your tickets early.

Find out more about It's The Most Wonderful Time of Year in Dunfermline here.
7. Edinburgh Magicfest 2022.
Back to Edinburgh for our last entry, and something completely different than a Christmas market or illuminated light display.

We're talking about Edinburgh Magicfest 2022, or the Edinburgh International Magic Festival, which will see incredible feats of magic and mystery from some of the UK's leading magicians and performers.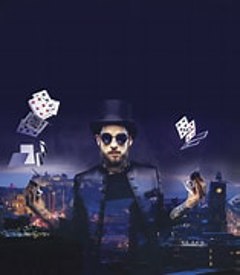 In addition to stunning shows and displays, you'll also find a range of magic workshops at this year's event, as well as a virtual magic show for those who can't attend in person.

Click here for more information about Edinburgh Magicfest 2022.
Buy a new build home with Campion Homes.

So, there you have it! A comprehensive guide to the best East Scotland has to offer for Christmas 2022.

And you're looking to live in a beautiful new build home in the equally beautiful areas of Crieff or Glenrothes, Scotland, visit the Campion Homes website today.