Introducing The Oak Bank Development, Glenrothes
Introducing The Oak Bank Development, Glenrothes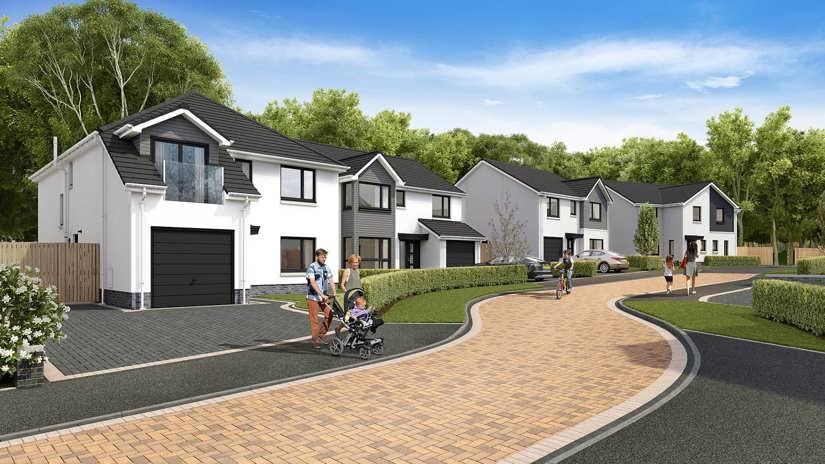 At Campion Homes, we're dedicated to bringing the most luxurious, new build homes to the most exclusive areas of Central Scotland. On June 11th, we'll hit an exciting milestone as a housing developer with the introduction of our Sales & marketing Suite opening at Oak Bank Development in Glenrothes, and we can't wait!

Today, we'll talk all things Oak Bank. From what to expect from the housing development, it's location in The New Town of Glenrothes and connectivity to major cities and regions, as well as the homes themselves, we'll cover everything you need to know about our brand spanking new housing development in Glenrothes, Scotland.

Let's kick things off by the area because as we all know, in the housing industry, it's all about the location.

The area

The best new build homes need the best area, and the historic Cadham Village of Glenrothes is just that. With incredible, idyllic valley views of the River Leven, Oak Bank is located in what can only be described as an encapsulation of Scottish natural beauty.

With green spaces in abundance within and around the development, as well as a diverse arrangement of public parks and scenic walks, Oak Bank, Glenrothes, is perfectly situated in the heart of Scotland.
The New Town of Glenrothes and wider area is also in the midst of a sustained growth period, which means homeowners have the chance to prosper alongside what is becoming a more and more desirable place to call home.

But it's not all greenery and scenery…

As well as stunning scenic views and landscapes spanning for miles around, our Oak Bank housing development is also in close proximity to a range of shopping facilities. With a blend of traditional and modern stores, cafes, and restaurants in Glenrothes town centre, you can benefit from everything you need when it comes to the perfect living experience when you choose Oak Bank.

And not only is Glenrothes town centre a mere one mile drive away from the housing development, but it's also close by to incredible beaches, world-class golf courses, education facilities from primary school up to college level, as well as transport connections to some of Scotland's major cities.

Access to major regions of Scotland

You'll find everything you need at Oak Bank and the New Town of Glenrothes, but if you need to head into Edinburgh, Dundee, or Perthshire, you'll find all kinds of handy travel links right on your doorstep.
With lots of road and rail options just a stones-throw from the housing development, we've successfully combined luxury, high-end rural life without isolation, so you can truly get the best of both worlds with your new build home.
Which brings us neatly onto our next point…

The homes

Oak Bank, Glenrothes is the epitome of comfort thanks to the very best new build homes you're likely to find in Central Scotland. With an attractive collection of luxury, 2-6 bedroom houses available to choose from, each one of them comes fully equipped with lots of lavish customisation options to choose from should you wish to do so.

Homeowners will also benefit from lots of wide, open spaces within their living spaces, and the very best materials used in all areas, from the bricks and mortar to the modern amenities inside.

Top spec across the board

In your brand new Oak Bank home, kitchens fitted with appliances from leading brands come as standard. This is the same in all the other rooms, too, from luxurious ensuites to spacious cloak rooms and bathrooms, with quality at every turn and customisation options available across the board.

Then there's the workmanship, which is carried out in line with the latest modern building regulations and to the exacting technical standards of the National House Building Council. This means no DIY, touch-ups, or renovations to worry about after you move in, and no stressing about vital aspects of your home like energy efficiency. With everything built to the highest of spec from security to structures, ventilation, electrics, gas supply and fire safety, all you need to do is enjoy your life with your loved ones.

You can find out more about the energy efficiency of our Oak Bank Development Homes for sale, and the many benefits of going for a new build rather than an older home in our recent blog, here.

Arrange a viewing at the Sales & Marketing Suite

The Oak Bank housing development in Glenrothes launch date is June 11th, and our Sales & Marketing Suite is open by appointment to allow you the opportunity to meet with us on a one-to-one basis.
At this appointment, you'll be given dedicated time when you can seek the information you require from our team of experienced sales advisors. This allows you to make informed decisions on your purchase.

Find out more

To find out more about Oak Bank, Glenrothes development, or for information on the other housing developments we have in the pipeline in Central Scotland, take a look at our dedicated housing developments page.

Here, you'll find out information regarding the homes, areas, take a stroll around the streets with our intuitive home tour and step inside the properties, as well as information on how to purchase.
We look forward to hearing you and welcoming you to your new home!