Energy Efficient New Build Homes
7 ways a new build home can reduce your carbon footprint
There are lots of reasons to buy a new build home instead of something more traditional. From the lack of renovation requirements to less DIY, to the many ways you can save money in both the long and short term.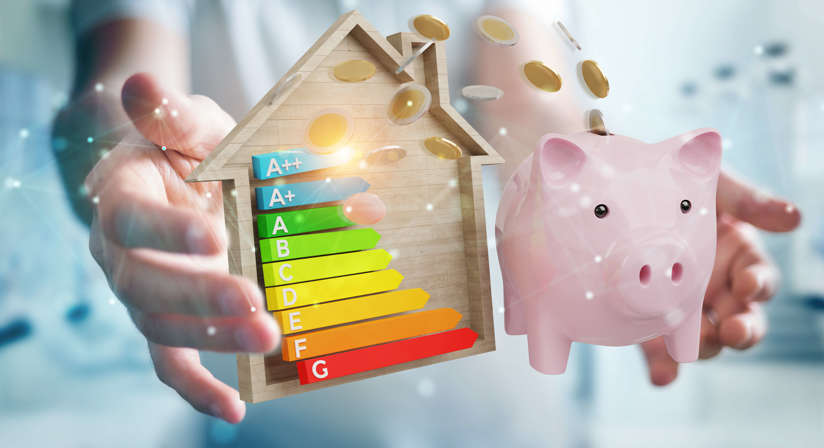 While all of these factors are important, in this blog, we'll look at how a new build home can reduce your carbon footprint when compared to an older house. We'll explore the reasons this is the case and how you can not only do your bit for the environment, but also for your bank balance, by buying a new build home.
Let's start with insulation.
Insulation
Since new build homes comply with the most recent building regulations, both their insulation and construction materials are incredibly energy efficient. In fact, a new build home can be up to 65% more energy efficient than the same sized older home, even if the older property has had modern improvements (reference: HBF Fact Sheets - PDF).
It's also worth noting that 25 million existing UK homes are considered to be poorly insulated, or don't meet the insulation standards required to achieve the government's net zero pledge by 2050. This is far from the case with new build houses by Campion Homes, which comfortably meet these standards and utilise the most up-to-date insulation.
Reduced water waste
Water consumption is another key consideration when it comes to the environment, and it's important for homeowners to keep water waste as low as possible.
Again, due to the fact that new build homes are built to more demanding regulations than older properties, with measures such as eco dual flush WC cisterns installed during construction, they're much more energy efficient when it comes to water usage.
Smart technology – HIVE
Smart technologies like HIVE Smart Thermostats give you more control over the heating of your home. Access from your phone, computer, or tablet means that there's less wasted energy, as you can access your heating controls from wherever you are.
The authority in this area, The Carbon Trust, have estimated that heating bills can be reduced as much as 35% as a result of using a Hive Smart Thermostat. This is especially the case when you use zoned heating, which means only heating certain rooms at a time. Campion Homes provide a HIVE heating controller as standard, which means no more heating of your home when no one's at home.
Hive lightbulbs are another fantastic way to reduce your energy bill because they utilise LED technology, which makes them up to 80 percent more energy efficient than traditional lightbulbs. Hive lightbulbs are rated A+ for energy efficiency, which is the best you can get, and just like Hive Thermostats, they can cut down your energy usage dramatically.
Solar panels
One of the original measures to combat the environmental crisis, solar panels are a great way of reducing your bills and becoming more energy efficient. This is because sunlight costs nothing, so your energy costs can be reduced significantly with solar PV installation in your home.
You can also cut your carbon footprint with solar, and the average household can save around one tonne of carbon per year with a PV system installed.
Lower emissions
Under newly introduced government building regulations, CO2 emissions from new build homes in the UK must be 30% lower than current standards. To implement this, new build homes use low carbon technology, from solar panels and advanced heat pumps to energy-efficient materials and construction practices.
This means that as a new build property owner, your carbon footprint will be massively reduced thanks to the materials and building processes used in your new build house. It also means that running costs are significantly reduced as a result, making it both cheaper in the immediate and long-term.
Double glazing
Glass is a strong conductor of heat; however, air isn't.
This is important because when you have double glazing windows installed in your home, as all new build homes do, you create an air seal between the inside and outside of the property. This pocket between the windows reduces the transfer of heat, which means your home stays warmer for longer.
The result is more energy efficiency for homeowners, with savings in abundance. For example, a new build home in the UK is roughly 50% cheaper to run per year than the equivalent Victorian house, which means you could find yourself saving anywhere between £440 and £1,410 per year in running costs (reference: HBF Fact Sheets - PDF).
Energy efficient boilers
In the UK, the majority of conventional domestic boilers are between 70-80% efficient, however, older boilers of over 25 years old can be as little as 60% efficient. This would be classified with an efficiency rating of G, whereas a brand new boiler has an efficiency rating of A, and operates at 90% or more efficiency.
So, if you have a new boiler installed in your home, which our new build houses do, your water will be heated quicker, and it won't cost as much to get to the desired temperature.
Find your perfect new build home with Campion Homes
Combining many of the above aspects as standard, our new build homes in Central Scotland tick all the boxes from an environmental standpoint.
From smart technology to energy efficient boilers, efficient insulation, double glazing, and more, you can reduce your carbon footprint and save money when you choose Campion Homes.
We have houses for sale coming soon in Fife, Scotland, our Glenrothes Housing Development, Oak Bank, as well as our Crieff, Scotland Development.