Top 10 open plan living ideas
Top 10 open plan living ideas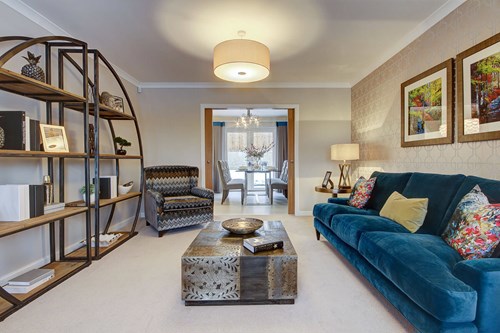 An open plan living design offers so much potential for your home, but it has to be well designed to make it both practical and stylish.
At Campion Homes for example, some of our Law View development properties offer a versatile space, that has both open plan features and clever sectioning through their intuitive feature pocket doors. Within this development you'll also find an open plan kitchen and dining room area that ties the space together seamlessly.
In this blog, we offer our top ten open plan living ideas, taking inspiration from our own new home developments.

Furniture has a key role to play in open plan living spaces and you have to be careful where it is placed for maximum effect.
Feature pieces can be used to divide up the room, for example large corner sofas to section off a living space, or a freestanding kitchen island that create a natural barrier between the dining space and the kitchen area.

Although open plan living ideas are all about opening up and maximising space, they have to be well-planned out so that they are practical to live in too.
Ensure there is a clear thoroughfare in the room – mount TVs to the wall to save floor space in the living room and consider narrower furnishings for homes where children can be expected to be running around.

Nobody wants their beautifully designed open plan kitchen and living space to be ruined by the sound of appliances whirring away while they are trying to watch their favourite TV show.
Streamline your appliances if your kitchen is part of the open plan room – integrate these so they are not on show and consider quieter models that do not intrude on the rest of the room. We offer a Bosch dishwasher with a lower decibel rating specifically for this purpose in our Choices Suite.

Open plan living spaces are perfect for families, as you can watch over your kids while carrying out other tasks, such as cooking dinner or catching up on chores. But do not let them overtake the room – invest in storage that can keep toys and mess out of sight.
We love this Aya storage bench that keeps toys tucked away while adding a stylish extra surface area to a room.

Too much empty space can feel unwelcoming. It can be helpful to imagine different 'zones', as you would with a portioned house (for example office space, kitchen and living room) to break up the room and prevent it feeling cold or too vacant.

If you do not want to commit to a completely open plan space, partial walls offer a great solution. They help to create a sense of privacy while retaining the open plan feel.
Our feature pocket doors do this brilliantly – simply slide them shut when you would rather have a separate space, for example when cooking dinner, and open again later.

Using different lighting styles throughout an open plan space can help to create distinct characters and moods.
For example, bright, overhead lighting suits a kitchen, where you need to see what you are doing, pendant lights give a gentle light over dining tables while floor lamps in the living area lend a welcoming warmth, creating a cosy space.
Take advantage of flooring

Do not forget your flooring when designing an open plan living space. It can be used as another method of dividing the space up.
Tiles in the kitchen, wood in the dining area and carpet in the living area all work well to designate different zones and are practical, stylish choices.

In a similar way to flooring, wall design can also be used to break up large spaces. Choosing different wall designs and colours can subdivide any large sections of wall space.
Opt for more airy, light shades for the kitchen and warmer, cosier shades for the living space to help set them apart and match the mood you want to create.

Alternatively, wall design can also bring an open plan space together if it feels disjointed or lacking in a unified theme. A bold feature wall across the whole space will unify its design, as can a statement piece of artwork that stretches across the space, such as a large painting or photograph.
If you would like to learn more about our beautiful developments or arrange a visit, get in touch with our team today.