The best picnic spots in Fife
The best picnic spots in Fife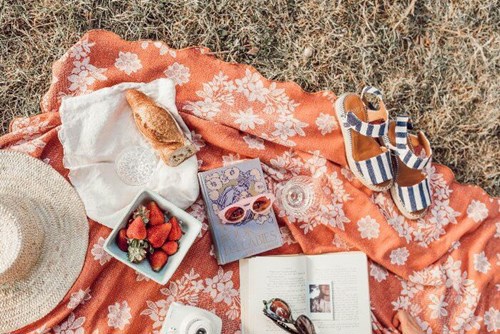 Scotland is not short of stunning places to spread out your picnic blanket and relax with friends and family while munching on some al fresco delights. 
Fife has a wonderful mix of rural, coastal and landmark locations that provide a perfect backdrop to picnic dining. 
Combine this with some fresh local food from nearby delis or homemade favourites and you have the makings of a perfect day out. 
Here's our insider guide to the best places to picnic in Fife. 
Tentsmuir Forest, Leuchars 
 
With woodland, sand dunes and a beach, Tentsmuir is a lovely place to kick back and tuck in. There are picnic tables a short stroll from the car park or you can walk further into the forest to find a wonderful picnic spot. The area is rich in wildlife with red squirrels, sea birds and dragonflies and if you're lucky you might glimpse seals basking on the beach. 
Falkland 
 
Scotland's first conservation village is a picture-perfect Fife village that featured prominently in Outlander. Stroll to the delightful Pillars of Hercules, a lovely organic farm shop and café, from the village and through the woods - it takes about half an hour but works up the appetite and there's plenty of places to picnic once you arrive. 
Once you're there, a visit to Falkland Palace is a must and a lovely addition to a great family day out. 
Aberdour Silver Sands, Aberdour 
 
Aberdour Silver Sands is one of the most popular and attractive beaches on the Fife coast. It has plenty of parking and is only a short stroll to the beach, which is handy if you're carrying hampers full of goodies!  
Golden sands await with views out to the islands of Inchmickery and Inchcolm, where there is a famous abbey. 
The Fife Coastal Path passes by this beach and the surrounding area, so why not stretch your legs and take in the magnificent views. During the summer months, there is a café, bouncy castle and ice-cream sellers. 
Pittencrieff Park (known locally as "The Glen")  
 
Purchased in 1902 by Andrew Carnegie and given to the people of Dunfermline, this rugged glen is an oasis in the centre of this bustling town and a perfect picnic spot, with plenty of space and lots of interesting things to see. 
Pittencrieff House, the Glen Pavilion, the Double Bridge, the Andrew Carnegie Statue and the Louise Carnegie Gates can all be seen throughout the park with views of the majestic Dunfermline Abbey.  
For families, it has two play parks and lots of parkland settings to picnic and an indoor café and play area.   
Remember to pack some nuts to feed the cheeky grey squirrels and watch out for the peacocks that wander through the parks. 
West sands, St Andrews
 
Beaches are pretty special places, and when you add a picnic for two into the mix, it all becomes incredibly romantic. Consider taking a picnic to West Sands in St Andrews, where the famous opening sequence of Chariots of Fire was shot.  
Here you can take in the ocean views and the skyline of this historic university town and wander into South Street for an ice cream from world famous gelato specialist Jannettas Gelateria, where you can choose from 54 different flavours!  
Some people say the three main reasons visitors come to St Andrews is to enjoy the award-winning beaches, the award-winning golf and the award-winning gelato from Jannettas Gelateria. 
Summer is the right time to get out and about and discover the Kingdom of Fife. If you're interested in moving to Fife, you can view our full range of developments here and you can get in touch with our team if you have any queries.