The four best stargazing spots in Fife
The four best stargazing spots in Fife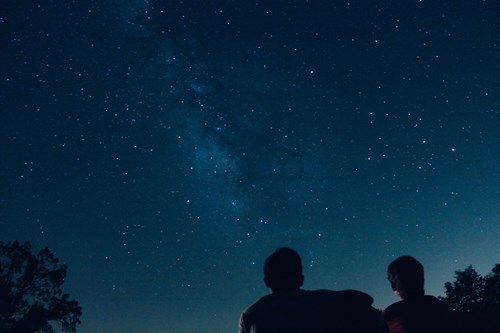 If you saw the supermoon shining down on us earlier in March, then you will know how spectacular the night sky can be. Next month marks International Dark Skies week (April 19 – 23). Scotland is an ideal location for stargazing, home to many of the best dark sky spots in the UK.
Keen astronomers will spy an incredible number of meteorological events without needing to travel; the Aurora Borealis is even visible from Fife on some cloudless winter nights! With so much light pollution obscuring the night sky from our cities and towns, where are the best places in Fife to escape to for a night under the stars? We have listed our top spots:

Loch Leven

Loch Leven is a freshwater loch on Fife's western edge, which in the day is an exciting place to spot a huge variety of wildlife. At night, the nature reserve makes a fantastic area look out at the cosmos. Choose a date closest to the new moon for the darkest skies.
Though only a short drive from Dunfermline and Kirkcaldy, the Loch is a good distance from Fife towns, minimising the effect of light pollution and noise for a peaceful night.
The Dalgety Bay Astronomy Club occasionally organises events at Loch Leven, where they will point out interesting astronomical features and give stargazing tips for future trips.

St Andrews Observatory

The St Andrews Observatory is home to the James Gregory telescope, the largest operational telescope in Scotland. Situated on Scotland's west coast, the observatory is in an ideal location for clear skies over the North Sea.
The James Gregory telescope opens to the public on the first Wednesday of every month, with an astronomer on hand to give tours and answer questions. This is an excellent opportunity to see the telescope in action and take in its incredible images. They also organise special tours and events for astronomy groups, students, school classes and tourists.

Dunfermline Park

Proving you do not have to leave town to spend a relaxing night stargazing, Dunfermline Park has a secluded spot ideal for stargazing. This area of the park uses no feature lighting and keeps any path lighting low, so you have little interference in your search for the Big Dipper.
The hillside spot gives you a perfect angle for reclining on a blanket, and it is the most accessible location on our list, via smooth tarmac paths that are suitable for wheelchair users.

Lomond Hills

The highest point in Fife, the Lomond Hills are home to some fantastic views over the Fife countryside by day and equally great views of the sky by night. Located in a rural area, you will not be disturbed by light pollution.
Pack a midnight picnic and take a gentle walk to the summit of East Lomond from Glenrothes, or drive to the car park halfway up for a shorter walk in the dark.
Want to move to a beautiful part of Scotland? Take a look at our developments in Fife and give us a call if you have any questions.