Our 6 best spring cleaning tips
Our 6 best spring cleaning tips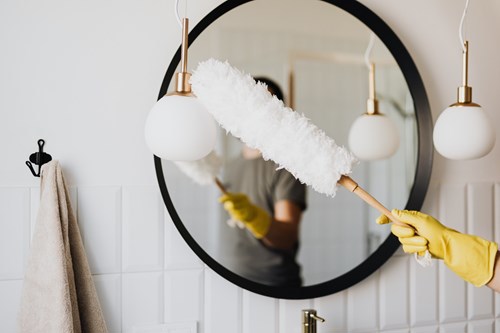 March has been and gone and spring is most definitely on the horizon – which means that it is the perfect time to get your home ship shape for the year ahead! 
If the prospect of giving your home a refresh fills you with dread, the Campion Homes team have compiled their 6 best spring cleaning tips to help you get going! Read on for some spring cleaning inspiration... 
1. Break it down room-by-room  

It can be overwhelming when thinking about the time it takes to deep-clean your entire home. Instead, it is helpful to break down the cleaning room-by-room, so you can tackle it over several days or weekends.  
It helps to write each room down and add bullet points underneath of what needs to be done – because there's no better feeling than ticking off a to-do list! 
Taste of Home have a brilliant spring cleaning checklist you can view & download here. 

2. Microfibre cloths – your secret weapon
 
If there was one cleaning tool that we'd recommend everyone stocks up on, it would be the trusty microfibre cloth. While you might already have one lying around for cleaning your glasses or maybe your car, these wonder cloths can be used to clean just about anything. 
They are soft, so suitable for basically every surface, and reusable, so you can cut down on environmentally harmful cleaning wipes. They also absorb more than 8 times their own weight in water and can pick up tiny particles of dust thanks to their unique fibres! 
We love this 5-star rated pack of Mr Siga microfibre cloths which you can pick up on Amazon.  
3. Pristine pots & pans   

Don't neglect your pots, pans & utensils when doing your spring clean. Even when you clean after every use, stains and burns can accumulate over the months. 
You can remove burned-on residue by adding water and dish soap to the pan and heating over the hob for a while – after it has simmered for 10 minutes, let it cool and simply scrub to remove any marks.  
4. The chance to declutter   

Spring cleaning is the ideal time to reorganise your wardrobe and get rid of the clutter from your cupboards.  
Pack away your winter woollies and bring out the summer clothes from hibernation. When you do this, take a look and see if there are any jumpers that you haven't worn lately – generally, if you haven't worn them in the last 3 months or so, you never will! So be brutal and your wardrobe space will thank you for it.  
But don't just throw them away – donate to a local charity shop, or earn some money for them through apps like Depop and Vinted, which make the selling process simple.  
5. Work from top to bottom 
  
To avoid making any extra work for yourself when spring cleaning, make sure that you always clean from top to bottom.  
Working from the ceiling downwards will force debris, dust and dirt downwards and avoid it messing up all your hard work! If you have a vacuum cleaner with an extension nozzle, use it to clear cobwebs and dust from the ceilings and lights first, before dusting everything down and hoovering the floors last. 
6. Keep your equipment squeaky clean
  
There is no point in tackling the spring clean if your cleaning equipment itself isn't sparkling clean! But there's no need to go out and spend lots of money on new items – for example, did you know you can disinfect sponges in the microwave? Simply saturate it with water, set on a plate and microwave for 2 minutes – voila, 99% of bacteria is gone! 
It's also worth giving your vacuum a once over with damp cloth and a mild detergent. It's one of those things that you never think to clean! Leave to air dry and don't forget to empty any full bags too. 
Lastly, you can clean your mop heads with a basic combination of water and vinegar. Simply add a cupful to a full bucket and leave to soak for 15 minutes before rinsing for extra-sparking floors! 
They do say cleaning is good for the soul and Land of Rugs share some helpful tips on their own guide which you can view here 
Campion Homes is there to help you every step of the way when buying your new build home. You can view our full range of developments here and you can get in touch with our team if you have any queries.