How to upcycle: Giving furniture a new lease of life
How to upcycle: Giving furniture a new lease of life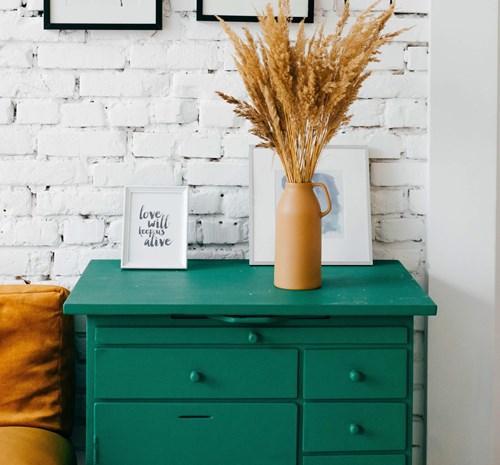 With lots more time spent at home this past year, many people have been getting creative with their DIY and getting involved with the popular trend of upcycling. However, many beginners might be wondering how to upcycle – we are here to tell you that it's actually pretty simple! 
Upcycling is the process of re-inventing old, tired furniture and transforming it into a unique piece for your home. Anybody can get involved with upcycling, and you only need minimal supplies to get started. Read on for the Campion Homes team's top tips for how to get started with upcycling.  
Which furniture is best? 
 
First things first, decide on which piece of furniture you are going to use for your upcycling project. This might be a piece you already own and is looking a little dated, or you might want to actively look for a second-hand piece that has real potential.  
Most types of furniture are ideal for upcycling – anything from tables and chairs to smaller items like vases and lamps. The possibilities are truly endless! Facebook marketplace is a great place to find some bargain diamonds-in-the-rough, whereas some people enjoy discovering new ways to inject new and personality into plain Ikea flatpack furniture. 
As long as the piece is of solid design, isn't too worn out or badly in need of repair, it should be able to handle all of your DIY efforts! 
Considering design  
 
Before you go in all guns blazing with the sandpaper and paintbrush, it's worth outlining exactly what kind of look you are going for and how this will fit in with your current interior design.  
For example, a metallic finish can turn the dowdiest looking piece of furniture into a modern statement piece. This tutorial from Make it Yours demonstrates brilliantly how you can transform a rattan chair into a modern masterpiece that will fit into any luxe design scheme.  
Likewise, you could retain the vintage charm of older antique-style pieces while bringing them up to date to fit in with a contemporary rustic-luxe interior. Older pieces that have been upcycled look amazing in modern spaces, like a Campion new build home – the contrast between the two styles can create a gorgeous statement feature.  
Shabby chic is very on trend now and upcycling is the perfect way to tie into this – we love the way that Upcyc_ler on Instagram reinvented this console table into a beautifully distressed piece that fits into a modern home perfectly.  
From bright and bold to paired back and refined, upcycling means that with just a lick of paint and some hard work, any piece of furniture or accessory can be reimagined to match the existing theme of your home. 
Beginner friendly projects 
 
Don't start out with anything too ambitious for your first upcycling project. Painting is the easiest, cheapest and most effective way to revive old furniture, and anyone can do it!  
Chalk paint is a great place to start, as it is easy to use and leaves a beautifully unique finish. Frenchic are a quality brand that have a gorgeous range of colours and finishes, whether you are working on indoor or outdoor furniture. One thing we would advise is to invest in paintbrushes that won't shed – there's nothing worse than trying to pick a loose strand of brush from your freshly painted surface! 
There are so many amazing upcycling ideas for beginners on Pinterest, and it's also great for gaining some design inspiration if you don't know where to start. The most important thing of course is that you have fun and let your creativity loose – the only thing holding you back is your own imagination! 
Campion Homes is there to help you every step of the way when buying your new build home. You can view our full range of developments here and you can get in touch with our team if you have any queries.